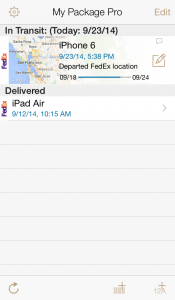 My Package 2.5.0 is now available. This version requires iOS 7.1 and later (it also supports iOS 8). This is a small update but was not easy job to make it possible. Hope you like it.
We understand some users request iPad support and more carriers support. We can't promise but try to achieve as much as we can.
UI updated to be more like iOS 7 design
Barcode scanner is supported to enter the tracking number.
My Package


My Package Pro