I would like to announce "My Package" version 2.0 is finally available. First, I apologize it takes so much time to update this version. It supposed to be out last year but I spend many times to find out the effective solution for push notification.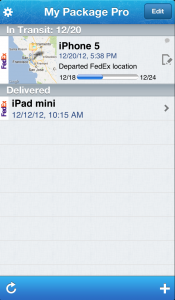 Yes, version 2.0 supports push notification. In "My Package" application, I set a limitation that 30 tracking items per month can be enabled for push notification. I think most of people are enough with this number. If you are heavy online shopper or sending packages as business, please unlock the limitation through in-app purchase or buy "My Package Pro" app.
Please note that "My Package" can be same as "My Package Pro" after buying all In-App purchase options. However, some of new features will be provided as another in-app purchase option for "My Package" while "My Package Pro" user can upgrade for free. So, if you want to unlock more than 1 feature, going with "My Package Pro" will be the better choice for the future.
– DHL Express Tracking
– Send tracking number from PC (See http://mypkg.amegan.com/#b)
– iOS 6 and iPhone 5 (4 inch screen) support
My Package 2.0.0 requires iOS 5.1 or later.
My Package


My Package Pro