We have updated 2.6.0 to 2.6.1 to address the crash issue on startup
My Package 2.6.1 is now available. This version requires iOS 7.1 and later (it also supports iOS 8 and 9).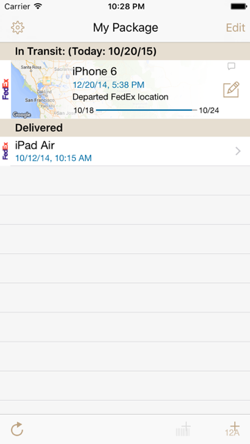 – Supports new carrier: Purolator, YRC, UPS Mail Innovations
– Fixes jaggy map arrow rendering issue
– Fixes wrong map arrow across pacific ocean rendering
– Fixes pointing wrong package item in the main screen after making multiple tracking items delivered
– Fixes clipboard monitoring feature
– Improves tracking item editing experience
– Supports iPhone 4.7inch/5.5inch native resolution
We are working with DHL eCommerce (DHL Global Mail) to support. We release an update as soon as the work is finished.
My Package


My Package Pro